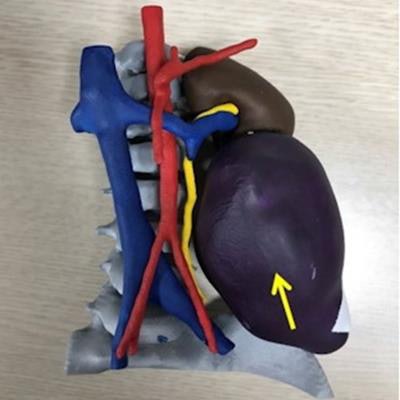 Using 3D-printed models of retroperitoneal tumors is an effective way to plan surgery for children and to communicate about the procedure with their parents, according to a study published January 30 in Nature: Scientific Reports.
A team of researchers from South Korea found that both pediatric surgeons and the parents of patients found using 3D-printed models to be the most helpful way to plan retroperitoneal surgery compared with CT imaging or 3D reconstruction of images.
"[We found] that the informed consent obtained using 3D printed models in addition to conventional 2D CT images improved the understanding and satisfaction of the caregivers in the management of retroperitoneal mass resection," wrote a team led by Dr. Joong Kee Youn of Seoul National University Hospital.
3D printing has become an increasingly used tool for medical applications. Among children, it has mainly been used to plan treatment for congenital disease, but using 3D printed models of retroperitoneal tumors in children shows promise, especially since sometimes abdominal CT can be limited in visualizing these tumors, the investigators noted.
"Pediatric surgeons have wanted to develop 3-dimensional tools for better surgical planning for this reason which could result in better surgical outcomes by avoiding incomplete excisions or unexpected vascular injury," they explained.
Youn's team conducted a study that included 10 children with retroperitoneal tumor resection planned between March and November 2019. Before surgery, each underwent an abdominal CT exam, which was used to create 3D reconstruction images and 3D-printed models. Third-year medical students, residents, and pediatric surgeons were asked to rate each modality's visualization of the lesions on a five-point scale (with zero equal to poor and five to excellent), assessing margin of the mass, location of the tumor, and ease of identification. The team also used the three modalities to explain the surgery to caregivers of the patients.
Of the three methods intended to help plan retroperitoneal surgery, the 3D-printed model was the most highly rated among all of the groups (p = 0.002), with overall satisfaction with the models ranked at 4.3 out of 5 points. As well, the children's guardians stated that 3D printing was the easiest modality to understand -- a useful result as clinicians sought to obtain informed consent from them before surgery, the team noted.
The authors concluded that 3D-printed models were an effective tool for preoperative planning.
"The use of 3D printing in pediatric patients with retroperitoneal tumors can improve the understanding of pediatric surgeons," they concluded. "Education with 3D printing was helpful for understanding the lesion by students and residents ... and also helped guardians to comprehend better in informed consents."