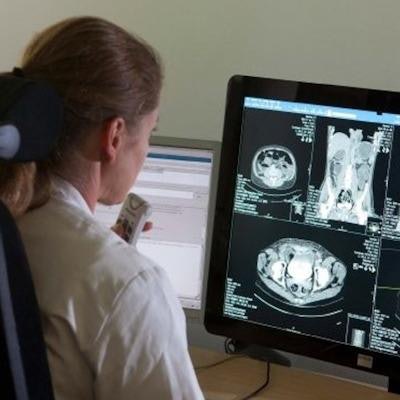 Consider the opportunity: All the work already invested in building a robust digital radiology system can be expanded to other departments in the healthcare enterprise. Is it simply cut and paste? No, as each specialty brings new considerations.
Yet some sensible principles will make the expansion popular. Let us follow the oncology care path as we consider the expansion. An oncology diagnosis requires different work teams that join forces through many disciplines, from detection to clinical analysis to extended treatment and continued patient communication.
Each discipline contributes essential aspects for the benefit of patient health; these aspects are not inconvenient deviations from the imaging system already implemented. Rather, these aspects are what we need to cherish in the expansion.
Aspects that come from each discipline:
Pathology -- slide-like familiarity of color and fluid motion
Oncology -- longitudinal consistency of color & margin location, space to spread out cases
Screening -- maximizing conspicuity of the most subtle and smallest anomalies
Radiology -- simultaneous consideration of a wide variety of imaging modalities
Primary care -- comfort and communication with the patient
A first principle: Each specialty discipline should have access to the digital image quality that makes them effective, not only accurate but also quick. For this reason, the medical image display ecosystem has evolved from being brilliantly effective with grayscale images to a system that can display the colors both strongly and consistently.
This evolution has enabled the expansion of enterprise imaging into the pathology lab and the dermatology department. In dermatology, new digital technology, e.g., Barco's Demetra analytics toolkit, can reveal more details of skin lesions and specific skin structures such as pigment distribution and blood vessels (vasculature).
As dermatologists screen for melanoma and other skin cancers, they rely on color perception both for their initial impression and when considering results of convolutional neural network (CNN) artificial intelligence (AI) algorithms that can be run on the same digital images.
Pathology departments are rapidly deploying digital systems that augment the traditional slide preparation with digital capture, storage, and display. The change to a digital pathology workflow reminds us of the days when films were carried between radiologists, and we see how far we have come in radiology's collaborative workflow.
But before the pathology community will get the full benefit of digital imaging, it must have "slide-like" familiarity. Enormous effort was required to get from the past situation -- colors are different on every display in the building -- to today's displays that have steady colors and there exist displays specifically cleared by the U.S. Food and Drug Administration for digital pathology.
The function of a medical professional in radiology is a pillar within the early detection process, using multiple technologies that enable all details to be clearly visualized. In the past, these details could be siloed based on the particular imaging modality used; there is a useful lesson here for the broader enterprise.
Mammography studies taken using modern breast tomosynthesis reduce the risk of showing false negatives. Also, larger, brighter display systems have been shown to increase the accuracy of detecting spiculated masses in retrospective tomosynthesis cases. And now, with the larger display and the addition of calibrated color, radiologists consider more modalities simultaneously to spot details at an early stage in women with higher risk or very-dense breast tissues.
"In the past, making accurate cancer diagnoses on site was a complicated process. Nowadays, thanks to Barco's monitors, we have become more efficient by being able to compare previous studies in a matter of minutes. For us, being able to make a comprehensive diagnosis on the same screen is an important aspect. I mean that now we can view a mammography, an ultrasound, and an MRI scan, thereby making a diagnosis in a matter of minutes," commented Dr. Margarita Garza, a breast imaging specialist and a member of the Mexican Radiology Council.
A second principle: Responsibility rests on the healthcare enterprise. This is true of both the quality assurance process and the morale of the specialists. Consider the expansion of enterprise imaging to include teleradiology, reading remotely across state boundaries and in home offices.
Jon (Lj) Helland, Sr. Supervisor of Radiology Support, manages the reading environment for 500 radiologists that work for vRad (Virtual Radiologic). Lj explained the challenge:
"Supporting work-from-home options can be time consuming for both the radiologists and the IT team," he said. One area where this comes into play is the workstation displays used by the radiologist to view images. It is up to the facility to ensure that radiologists are reading from displays that are appropriately calibrated, lit, cleaned, and maintained."
vRad found a way to address the challenge was to make use of display systems that have quality assurance built into the display ecosystem.
"The displays are DICOM-calibrated out-of-the-box and continuously monitored in the background," Lj said. "Built-in sensors automatically take care of the brightness and diagnostic checks. And since the displays are connected to the internet via a secure and encrypted connection with no access to patient data, information is communicated directly to the cloud – eliminating nearly all of the work once required of our radiologists. They are even MQSA compliant for mammography, which has more stringent requirements than even the ACR or New York."
Focusing on the critical aspect of quality assurance in radiology and breast screening also helps vRad with staffing challenges, Lj explained.
"Our radiologists tell us they are confident in their equipment. Not only are images high resolution, but the automated calibration runs daily performance tests and self-corrects anything that is the slightest bit off, even if it is just one-tenth of a percentage point," Lj concludes. "Having state-of-the-art displays also helps our recruitment; radiologists know that our investment in tech is an investment in them. Ultimately, we are getting the noise out of the way so they can focus on what they do best: patient care."
A third principle: Standardizing on a solution that supports multiple disciplines can simplify the
enterprise imaging expansion. Although the pathologist deserves a specially designed system that maximizes their productivity with color calibration, oncologists also benefit from being able to display all image types on a color-calibrated system.
Choosing a display system that includes color calibration allows viewing software to present a familiar appearance across a wide range of image types and ensures that people following a patient over time have equipment to show images consistently to facilitate progression of the treatment.
An example of such a system is the Coronis Fusion 6MP that includes a wide color gamut in combination with SteadyColor calibration technology that helps doctors see even more colors and more details on its 30-inch screen. When the U.S. Department of Veterans Affairs needed to rapidly expand their home-reading capability during 2020, they put the challenge to Four Points Technology, a CVE-verified Service Disabled Veteran Owned Small Business (SDVOSB) delivering IT and clinical solutions to Government customers around the world. Could 400+ home workstations be deployed and managed within 30 days? By standardizing on the versatile Coronis Fusion 6MP and the accompanying quality assurance software QAWeb, Barco and Four Points Technology were able to rapidly make this work.
David Gilcrist, CEO at Four Points stated that "Four Points is pleased to provide the VA with the leading medical imaging solutions necessary to continue their critical mission, regardless of what impacts the Covid-19 has on workplace and social distancing necessities. Our hospitals must provide excellent care to their patients without delay, and this solution provides the same quality capability they would have in their hospital settings. As a small business focused exclusively on serving our government customers, we're pleased to work with Barco to solve this critical requirement."
Now is the moment when the healthcare enterprise is becoming a larger group of people, and all the imaging in the enterprise can be drawn together and handled in a way that makes it effective for that larger group of people. There is an established ecosystem, proven out over the past twenty years, for all the modalities that are used in radiology. Using this as a basis, it is straightforward to extend the same model to other parts of the enterprise.
Clinical displays like the Eonis, along with diagnostic models especially designed for dental, pathology, CT, and breast imaging may vary in some of their specifics, but the image-display ecosystem remains the same and is already familiar to the healthcare IT team. The stability that comes with all these medical displays is coupled with tools like QAWeb that provide fleet management, calibration, and compliance checking to minimize the burden on the whole enterprise.