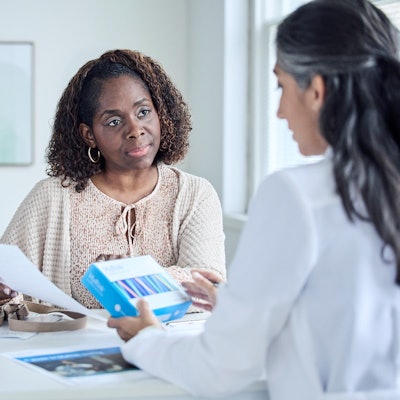 Cancer risk assessment is a routine and important aspect of care across specialty practice settings, including primary care, women's health, surgery, oncology, or radiology/imaging. Hereditary (genetic) cancer risk assessment is a necessary component of the overall evaluation of cancer risk.
Across professional societies, there are numerous guidelines and recommendation statements that provide direction on when to begin and which individuals to consider for cancer risk assessment and genetic testing. These professional guidelines include the National Comprehensive Cancer Network (NCCN), U.S. Preventive Services Task Force (USPSTF), American Society of Breast Surgeons (ASBrS), American College of Obstetricians and Gynecologists (ACOG), the American Society of Clinical Oncology (ASCO), and the American College of Radiology/Society of Breast Imaging (ACR/SBI).
Specific to the radiologist, the ACR/SBI recommends that all women be evaluated for breast cancer risk no later than age 30 in an effort to identify those women at higher risk who would benefit from early screening. In addition, the guidelines also state that women with genetically-based increased risk should begin annual breast MRI at age 25-30 and undergo annual mammography starting at age 30.
Radiologists are uniquely positioned
As a tenured radiologist, I feel that we, as radiologists, are uniquely positioned to assess and address hereditary cancer risk in women referred for breast imaging. We can perform risk assessment for individuals sent for breast imaging using the information that has already been collected.
Overall risk can also be addressed using models, such as Tyrer-Cuzick, and we have the tools to address hereditary cancer risk using national guideline criteria. Cancer risk assessment is a necessary component of care in the breast imaging space as it provides the opportunity for radiologists to make personalized screening recommendations based on a combination of factors, such as age, genetic predisposition, and breast composition.
Loving, et al recently looked at the feasibility of incorporating a risk assessment, pre-test genetic counseling, and testing process into single-day breast imaging appointments within a breast radiology department. Of the 3,345 patients in the study, 32.3% met national guideline criteria for genetic testing. Many of those who met criteria went on to complete same-day genetic testing, of which 9.1% were identified as pathogenic mutation carriers. Feasibility was proven in the study and the authors concluded that breast imaging centers can operate same-day cancer risk assessment and genetic testing programs. The authors also noted that genetic risk assessment and testing programs add value to radiology programs beyond imaging services.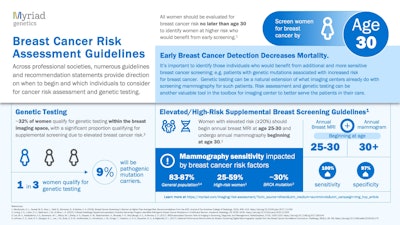 We all recognize that early breast cancer detection decreases mortality. The sensitivity of mammography for breast cancer detection in the general population is estimated at 83%-87%, according to Lee, et al and Lehman, et al. When compared to high-risk women, however, the sensitivity of mammography is much lower, at 25%-59%; and for those with BRCA mutations, the sensitivity of mammography is on the lower end of that range, at 30%.
The diminished sensitivity in this group is due to many factors, including: higher growth rates seen in BRCA-associated cancers resulting in an interval cancer diagnosis; younger age at diagnosis, which is often accompanied by dense breast tissue leading to a "masking" of cancer; imaging features consistent with benign lesions; and cancers less likely to exhibit malignant calcifications on mammography.
Breast MR imaging has a reported sensitivity as high as 100% and specificity as high as 97%. In women who harbor BRCA mutations, most breast cancers can be identified with breast MRI at a very early stage. As breast imagers, we know that mammography is imperfect and is more likely to fail/have a false-negative reading in patients at high levels of risk, so it is important for us to identify those individuals who would benefit from additional and more sensitive breast cancer screening.
Without knowing a patient's risk and genetic mutation status, we are diminished in our ability to screen with the most effective modality. Having this information fundamentally changes our approach and recommendations. Patients with genetic mutations associated with breast cancer susceptibility need supplemental breast screening with MRI, the most sensitive test for breast cancer detection.
Impact of genetic testing
I have witnessed the impact of genetic testing, and I see this as a natural extension of what we already do with screening mammography. We know that women are at risk for developing breast cancer and we believe in the power of screening and early detection. The same is true for hereditary cancer risk.
Since we began incorporating cancer risk assessment and genetic testing at our institution, we have identified a number of women with a variety of deleterious mutations, from the more well-known high penetrance mutations like BRCA1 and BRCA2, to moderate penetrance mutations such as CHEK2, equally significant and tied to supplemental imaging recommendations.
In accordance with the guidelines, we offer supplemental screening with breast MRI for mutation carriers and for patients with elevated risk, defined as a calculated lifetime risk of 20% or greater based on breast cancer risk models. Leveraging MRI, we have been able to detect cancer earlier in many high-risk patients. One such patient, a woman in her early 70s who underwent genetic testing at our center due to her daughter having been identified as being a BRCA1 mutation carrier. Upon testing, our patient was found to carry the same BRCA1 mutation. Even though the patient's screening mammogram had been performed less than 4 months prior, read as "negative" with fatty replaced breasts, we proceeded with a breast MRI which revealed a solitary enhancing mass (bright on T2).
After a "second-look" ultrasound and subsequent needle biopsy, she was diagnosed with a 6-mm, grade 3, triple-negative Infiltrating Ductal Carcinoma. Her surgical treatment plan included bilateral mastectomy and the patient is doing well today. Her outcome could have looked much different and far worse without testing and undergoing the breast MRI which led to early breast cancer diagnosis.
First-pass assessment
As a dedicated breast imager, I have been performing "first-pass" risk assessment and genetic testing for more than 17 years in clinical practice. I have employed a variety of methods for identifying patients that meet guidelines for genetic testing, from originally using a paper form to embedding the guidelines in the EHR/mammography reporting database software.
Incorporating risk assessment and genetic testing into practice is actually quite easy. The tools for risk assessment and guideline recommendations for testing are widely available and easily accessible, and genetic testing is typically 100% covered by insurance for qualifying patients as a screening under the Affordable Care Act.
"Smart" processes can be developed to address genetic testing in the outpatient setting that can easily be incorporated into routine practice in breast centers. At our center, we perform a "first-pass" screen assessing overall breast cancer risk as well as hereditary cancer risk. We created a process to identify patients with "red flags" and offer same-day testing.
A multigene panel approach to genetic testing has made it easy by reducing the stress and anxiety of trying to determine which specific gene/genes to test. For continuity of care, our organization developed a high-risk clinic, staffed with additional healthcare personnel, including a nurse practitioner and a genetic counselor.
Patients are scheduled for a follow-up appointment, either in person or via telemedicine, to receive their test results and discuss next steps for evaluation and management. All in all, the process is very efficient, and the patients get the care that they need from our team of dedicated professionals.
Summary
In summary, I see risk assessment and genetic testing as another tool in my toolbox to help us better serve the patients in our care. A quote from Maya Angelou states, "Do the best you can until you know better. Then, when you know better, do better." Now I know better, so it is my goal to do better in the care of our patients by providing comprehensive cancer risk assessment and genetic evaluation and testing.
On a final note, the recent FDA updated mammography regulations press release further reaffirms the opportunities and benefits of comprehensive risk assessment.
"Helping to promote patient access to information about the impact that breast density and other factors can have on the risk for developing breast cancer is an important part of a comprehensive breast health strategy," the FDA said in its press release. These new guidelines have the potential to not only help improve the quality of life of those living with breast cancer but provide us with the opportunity to give better personalized care to our patients hoping to prevent it.
Learn more about Hereditary Cancer Risk Assessment here.
Dr. Stacy Smith-Foley is the medical director of The Breast Center at CARTI in Little Rock, AR.
Dr. Edith Caroline Smith is a nurse practitioner and medical science liaison, at Myriad Genetics in Salt Lake City, Utah and Dr. Royce T. Adkins is a consultant for Women's Health and Precision Medicine in Nashville, TN. Both are contributing authors to this article.
The comments and observations expressed are those of the author and do not necessarily reflect the opinions of AuntMinnie.com.