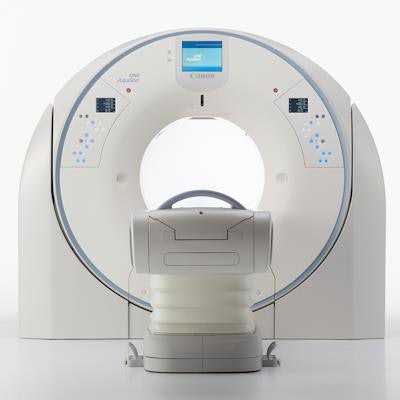 At this year's RSNA annual meeting, Canon Medical Systems USA will demonstrate its CT innovations on its unique, immersive virtual booth, creating a one-of-a-kind digital experience for visitors. With advanced technologies, ergonomics, and deep-learning capabilities throughout the portfolio, Canon Medical's industry-leading capabilities can help improve patient safety and increase the quality of care now and in the future.
Aquilion One / Prism edition enables deep-learning spectral capabilities for routine clinical use
Canon Medical's Aquilion One / Prism edition, designed for deep intelligence, integrates artificial intelligence (AI) technology to maximize conventional and spectral CT capabilities with automated workflows while providing deep clinical insights to assist physicians in making more informed decisions across the patient's care cycle. The system comes equipped with Advanced intelligent Clear-IQ Engine (AiCE), an innovative approach to CT reconstruction that uses deep learning to distinguish true signal from noise to deliver sharp, clear, and distinct images at fast speeds.
Newest configuration of Aquilion One / Genesis edition provides innovative cardiac capabilities powered by AI
With coronary CT angiography (CCTA) now the go-to exam to address chest pain, Canon Medical Systems USA launched a new configuration of the Aquilion One / Genesis edition -- the Aquilion One / Genesis SP -- a complete CT solution with proven cardiovascular capabilities. The Aquilion One / Genesis SP was designed for the evolving needs of structural and coronary imaging, enabling consistent, high-quality studies through its AI-powered, wide-area CT.
AiCE further expands across Canon Medical's CT portfolio -- now available on Aquilion Prime SP
Continuing its commitment to offer advanced imaging technology across its entire CT portfolio, Canon Medical's deep convolutional neural network (DCNN) image reconstruction technology is now available on the Aquilion Prime SP. Canon Medical's AiCE uses a deep-learning algorithm to differentiate signal from noise so that it can suppress noise while enhancing signal.
With AiCE, the Aquilion Prime SP now enables clinicians to perform super-high-resolution studies at doses equivalent to standard resolution CT (with traditional hybrid iterative reconstruction techniques). AiCE was trained using vast amounts of high-quality image data and features a deep-learning neural network that can reduce noise and boost signal to quickly deliver sharp, clear, and distinct images, further opening doors for advancements in CT.
Deployable CT solutions + rapid decontamination: Canon Medical's infectious disease solution helps quickly and safely image patients
To help hospitals and institutions effectively utilize CT on patients who are suspected of being positive for infectious disease, Canon Medical will showcase its infectious disease CT solution during RSNA 2020. The solution consists of a deployable system -- the Aquilion Prime SP CT system in a modular or mobile footprint -- with a rapid decontamination tool to help isolate and decontaminate the CT for rapid, safe imaging.
The decontamination system, from Surfacide, is an automated ultraviolet-C technology that significantly reduces bacteria, spores, and viruses and is effective against a variety of advanced viral infectious diseases. The system incorporates multiple automated ultraviolet-C emitters that work together to provide decontamination of the room in minutes to help improve workflow.
More information is available at Canon Medical's RSNA 2020 portal and at the company's unique, immersive virtual booth experience during the RSNA annual meeting.